"The quality of workmanship and the manner in which the jobs are handled are superior."

– Bud Wamer, JBA Superstores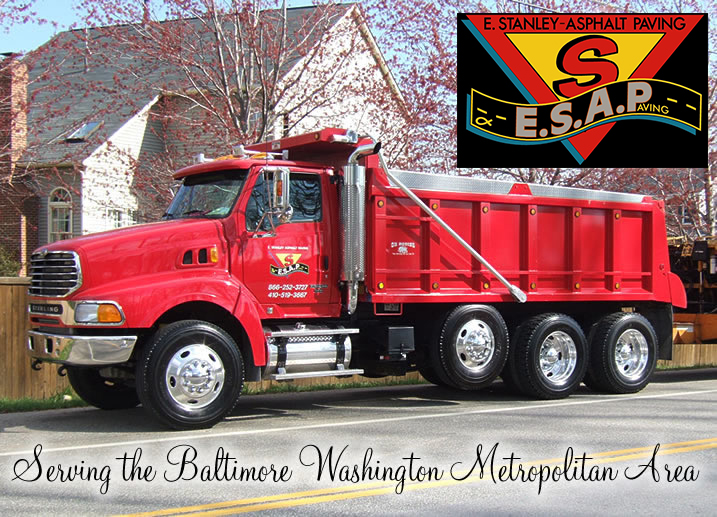 Asphalt
new ,repairs, renovations, extensions
driveways
parking lots
Integrated asphalt edging
patching
speed bumps and humps
asphalt curbing
private roads
farm lanes
tennis & basketball courts
multi-purpose play areas
golf course paths
seal coating
emulsion & oil based coatings
slurry seals
tennis & basketball color code seal
crack filling hot & cold
Concrete
block & masonry work
expansion joint repair
stamped concrete
all types of concrete curbs and gutters
epoxy crack repairs
concrete seals & stains
Stone
new & recycled
Pavers
walkways
driveways
walls
patios
steps
Drains
storm drains
grate drains
culvert pipes
repairs
troth drains
Parking Lot Maintenance
striping
signs & sign poles
rubber speed bumps
parking guards
stencils
Site Work
lot clearing
grading & excavating
holding ponds
5 Generations Of Prompt Professional Service
E. Stanley Asphalt Paving has the experience and knowledge of 5 Generations of Baltimore asphalt paving experts. We are known locally not only as E. Stanley Asphalt Paving, but also as E.S.A. Paving, E.S. Paving and Stanley's Paving.
We are a local company consisting of the most highly skilled, best trained project consultants and installation technicians available. We cater to all jobs, no matter how large or small, anywhere, any time. We offer commercial, industrial, Marine and residential paving and related services.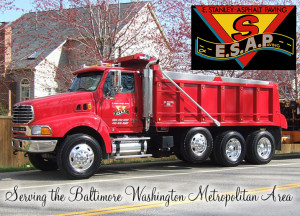 E. Stanley Asphalt Paving delivers quality work, advanced skills and versatile experience. From engineer to supervisor to technician, all of our employees take pride in the work they do on every job. E. Stanley Asphalt Paving professionals are proficient in the evaluation and installation of any job site. Our experts understand first-hand the issues involved with the most complex situations. Our teams consider, examine and manage each variable of a job. They conduct total assessment of the individual job and evaluate the materials to provide a professional installation. Our site consultants can evaluate each project on an individual basis and provides quality work that meets and exceeds the customer's vision.
Our Mission
E. Stanley Asphalt Paving brings a revolutionary concept to the paving construction industry:
A JOB DONE RIGHT, THE FIRST TIME…ON TIME…EVERY TIME!
Everything was great.  Joe returned my call promptly and was very professional and very helpful in answering all my questions.  Joe and his crew worked hard and did a great job.  I would definitely recommend E. Stanley.
Stacy – Baltimore, MD
Ernie and his crew are awesome! they went the extra mile to do the grading right and it looks wonderful! Our house was built in 1900 and it never had a driveway (gravel). When Ernie did the estimate he was professional and honest. Ernie was on the job both days helping his crew and making sure each part was done right, the crew was very nice and did a great job as well. I would highly recommend E.S. Paving.
Ashley – Baltimore, MD
Everything was great. They showed up 15 minutes before scheduled time. Crew worked the entire time with only a lunch break. Very Nice, very professional. Cleaned up everything perfectly. Owner was on site and worked with the crew to complete the job. I specifically signed up for Angies List to find an asphalt company. Got about 5 estimates. Checked all with Angies List and the Better Business Bureau. I felt that E. Stanley would do the best job and not just put a "topcoat" over my old broken driveway. I am very happy with E. Stanley and would definitely refer them to others.
Germaine – Baltimore, MD
[The Job] went very well, the neighbors mentioned how nice it looked. They were able to schedule me very quickly. They were pleasant and got the job done well. I was very satisfied. The job took about a day and a half. I would recommend them and would use them again myself.
Jim – Dundalk, MD
It turned out fine. We were extremely pleased. The gentleman was extremely nice. We had no complaints about it or anything. The price was very good. We had to wait a while but I think it was because of how the weather was. He informed us and he got here when he said he would.
Patricia – Granite, MD
The company was very helpful with answering my questions, being prompt and completed the service in a timely manner.They were very pleasant and willing to work with me. I highly recommend this company.
Roxanne – Odenton, MD

Sorry:

- Instagram feed not found.